The Magholder is feature packed that focuses on practical and comfort at the same time. Originally designed to solve a real-world problem of needing to have a spare magazine on a belt without it digging into someone's side or stomach and also being concealed, the Magholder has now become a staple in EDC (every day carry) all over the world.
Made in America
Completely and 100% designed, dveloped and manufactured in America. It is important to our team to keep Magholder a Made in USA product. The quality and consistency achieved by keeping our manfucturing in America ensures that each and every Magholder is backed with a Lifetime Warranty.
High Temperature & High Impact Nylon
The durability of the Magholder mag carrier has been a source of pride since day one. The constant development of the Magholder itself has ensured that certain tweaks have been made so that the quality is unmatched. The nylon used keeps the Magholder at the top of the competition.
Retention Clips
The retention clips that are specifically designed and tweaked for each pistol. These clips keep your magazine in place through all sorts of activities and easily release your magazine when you go to pull them out.
Bullets Faced Downward for Quick Loading
Most pistols will be reloaded easily by pulling the magazine to the rear of the Magholder, and directly inserting into the firearm. With the bullets facing downward these actions all happen quickly and in sync.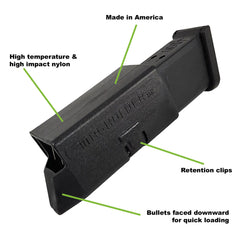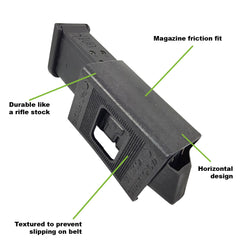 Magazine friction fit
All of the Magholders currently in production use some amount of a friction fit. this keeps your magazine tight in the Magholder while you are going about your day. The construction of the Magholder allows for friction fit that with time, loosens up so that the magazine can go in and out of the Magholder easily.
Durable like a rifle stock
The Magholder is extremely durable and almost unbreakable. All along the way of the manufacturing of the Magholder up until it is shipped out, durability is the focus. Rifle stocks have the same qualities that the Magholders feature.
Horizontal Design
Traditionally, mag pouches have been vertical, clunky and bulky. The Magholder features the horizontal orientation so that it is easily concealed, the fastest reload on the market, and prevents the magazine from poking into your stomach or side when you are bending over, or in a sitting position. Check out our "Why horizontal?" article.
Textured to prevent slipping on the belt
Many magazine carriers both horizontal and vertical have the similar issue of sliding on the belt when attempting to remove the magazine. The Magholder has taken this issue to heart and has designed each version of the Magholder to use texturing and the structure of the mag holster to keep it in place so it is reliable and ready when you need a spare magazine in a critical situation.